Creating a WordPress website in 2020 is easy and you don't have to be a pro at all. Anyone having basic computer knowledge can create a website using WordPress. It offers a Graphical way of building a website.
Before jumping into it you need to finalize a few things. Things like the domain name, buying a hosting space, installing WordPress, Adding a Good Quality Theme, Adding Plugins, and adding content.
Why Choose WordPress as your Website Platform?
WordPress is an Open-Source CMS, is available for free and can be used by anyone. You can create any type of website and get it ranked in the Google Search results.
WordPress is a popular Content Management System from the lot and powers more than 35% of the websites on the internet.
It is so popular because of its easy to use and simple to understand way of functioning. It has a simple interface and may look complex at the beginning but trust me it's not. It's flexible too…
You can create new pages and documents and then publish on the internet without much hassle. So without much fuss, let's get started.
#1 Acquire a Domain Name and Hosting
The first step in creating any website is always buying a domain name. Domain name is the identity of your website. It is the name by which someone recognizes your site and can be differentiated from the rest.
You have to wisely buy a domain name that is easy to understand, is short, and can be easily recollected by anyone. Choose a domain name according to your website's niche.
If your site is related dogs, the domain name can be Example: doggo.com, humbledogs.com, dogandbones.com, etc. It's not always that you will find the name you are looking for some might be already taken, in that case, find a name with a different extension Example: doggo.org, humbledogs.eu, dogandbones.uk.
Also note some extensions are country specific Example: .in, .uk,  .eu, .pk, etc.
You can buy a domain name from your hosting provider or can buy it separately from other domain name registrar. Also, if available go for WordPress hosting where you can install WordPress with just a click.
Many of the companies like BlueHost, GoDaddy, HostGator, Google, etc. provide domain and hosting. Visit their website and find a plan that suits your pocket.
#2 Get Familiar with WordPress
Once you have bought the domain and hosting of your choice and have installed the WordPress software on it. You can now relax and try to get used to the WordPress Environment.
At first, login to your WordPress by visiting www.yourdomain.com/wp-admin/
You will see a Login page like this: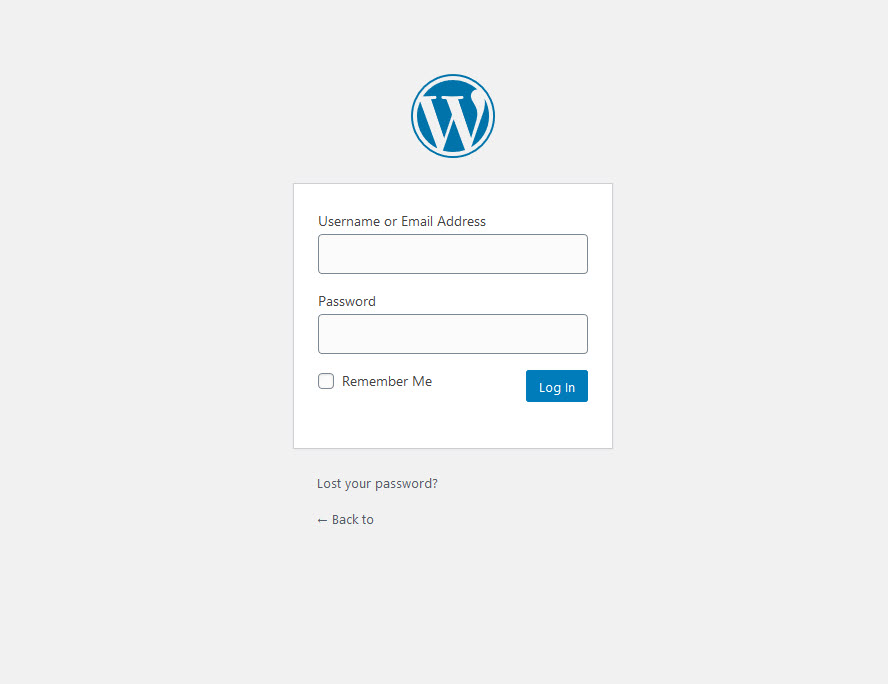 Enter your Login Details and you will be presented with the below screen after a successful login attempt.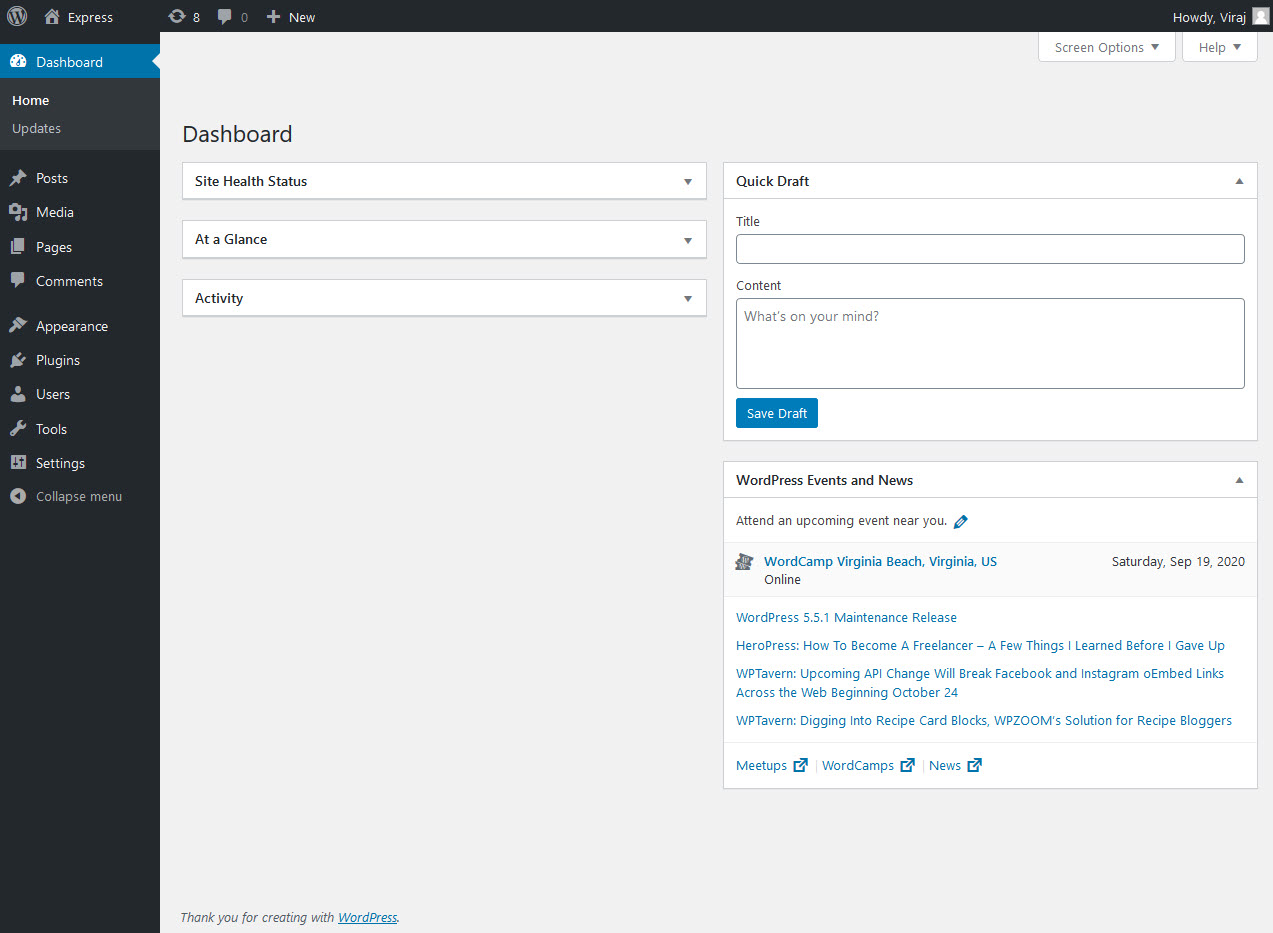 On the Left Side, You have the options like
Dashboard: It consists of Home and Update where you will information regarding the health of your WordPress website, See all the recent posts and activities, Get Information about WordPress events across your region and Receive Update Information about the latest Security Updates and Enhancements by the Team.
Posts: Create, Edit and Delete Posts
Media: Add media like images, audio, videos, gifs, etc.
Pages: Create pages for your website like About Us, Contact Us, Privacy Policy, and others.
Comments: Monitor user comments to your posts and manage them.
Appearance: It consists of menus like Theme customization options, Widgets, Menus, and Theme Editor.
Plugins: Add Plugins to your website like Quiz and Survey Master, Hide My WP, Oshine, Projectopia, etc.
Users: Add and manage users to your website like Author, Subscriber, Admin, Editor, etc.
Tools: Manage data on your website.
Settings: Adjust settings of your website.
#3 Install a Multipurpose Creative WordPress Theme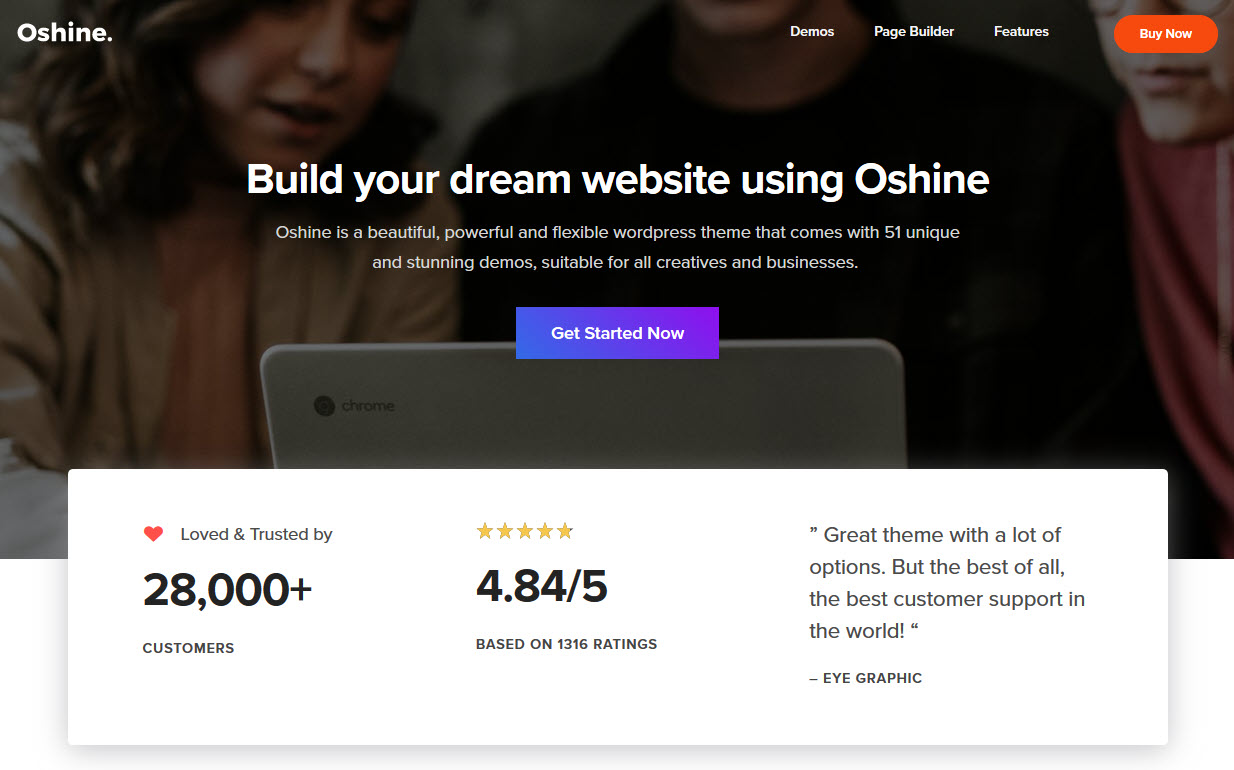 Having the best creative WordPress theme for your WordPress is very important to make it look legit and professional. The theme you choose must match the color scheme of your site's logo.
I would highly recommend buying a paid theme as they come with guaranteed security updates, high customization options, unique design, and 24/7 support, that is missing in free themes as they are not looked after by the developer and may be a security risk in the coming years.
Brand Exponents' Oshine is one such Modern Multipurpose Creative WordPress Theme that needs to be on your website. Oshine is loved by 28000+ site owners and its got their eyes rolling by its stunning design and performance.
You can select from various Pre-built Templates for faster and easy theme implementation. If your website is about Photography, Architecture, an Online Business, Portfolio, or Education. You can design your site for custom use and be online within minutes.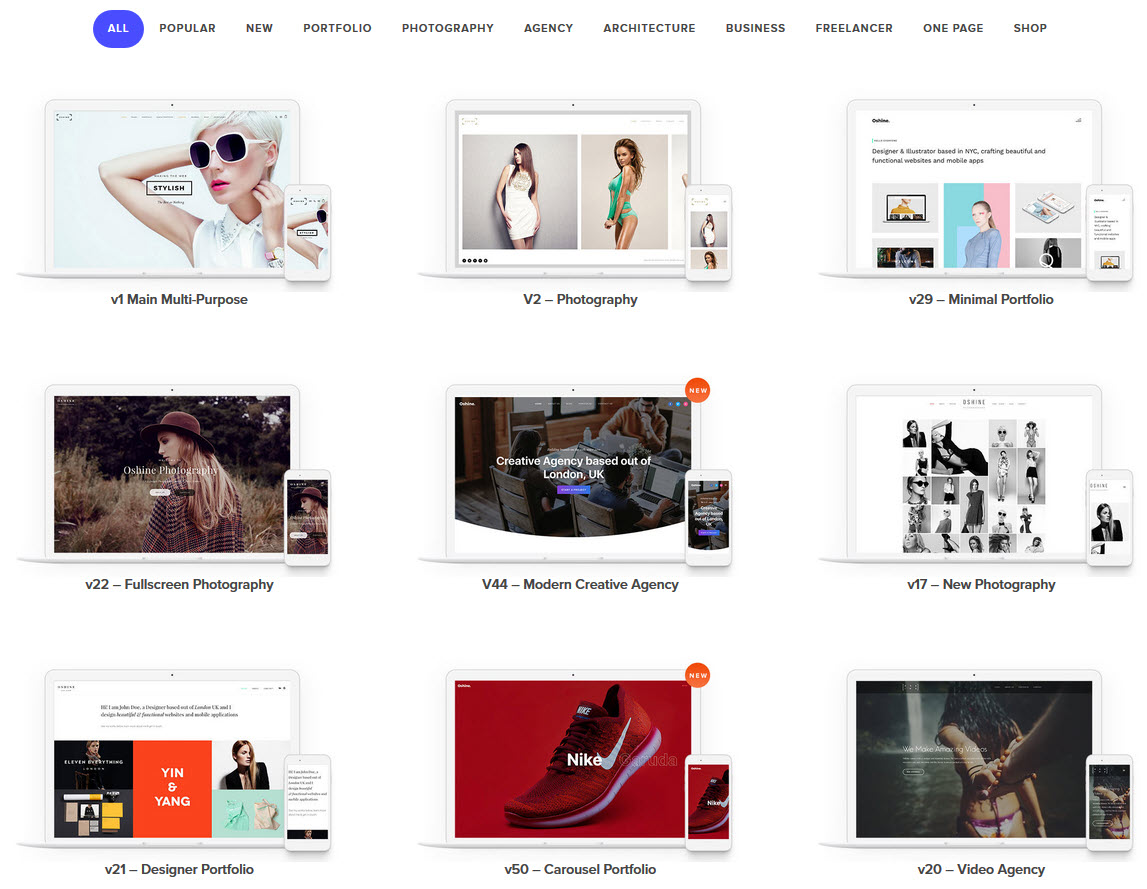 With Oshine you can create your own custom design with its pick and drop page builder 'TATSU'. It is simple to use and specially created for newbies. It has features like a Light and Dark Skin, 60+ Pre-built Sections, Blend Modes, Multiple Font Options and Sizing, Tree View, 50+ Styling Modules, and much more…
Oshine is also the best choice to create one-page WordPress themes for your website. Check these Demos specially crafted with Oshine and then decide.
#4 Install Plugins and Add Content
After you have successfully added a Multipurpose Creative WordPress Theme and enhanced the look and feel of your website. Now its time to add some Plugins to add extra functionality to your WordPress website.
You must install some plugins like:
Hide My WP – WordPress Security Plugin to monitor and fix WordPress Security issues and keep hackers away.
Quiz and Survey Master – To create exciting quizzes, surveys, feedback forms, etc. to increase user engagement on your website.
Projectopia – Manage your work with the best Project Management Plugin on WordPress and grow your business.
After installing some plugins go ahead and write your first post by going to Posts > Add New.